Why is it so hard to find the "good" candidate?
Visibility is key
Finding the right candidate for your company is not an easy task. Candidates are increasingly demanding and it is a real challenge to find the perfect balance between your budget and a service that matches your needs. To make it worse, the current recruitment platforms are increasingly complex and restrictive – causing us, recruiters and HR professionals, to lose days and weeks learning how to "properly" use a tool.
Amidst so many platforms there is one thing we have learned for sure:
Online visibility is the most important variable for us recruiters. And it would be just awesome if the tools were simpler to master.
Zymmetrical: an easier, simpler, and economical alternative
Recognizing these problems and difficulties, we decided to create a simple and economical alternative. Zymmetrical has an easy-to-use platform that natively integrates with search engines like Google Jobs – services that increase the visibility of your job postings up to 650%.
Zymmetrical is a website created exclusively for the Montreal area. This allows us to focus on bringing only the best and relevant candidates to your job postings. Whether you're a seasonal recruiter or a headhunter in constant search, we have a plan that fits your profile and that will surely cost only a fraction of what the competition charges.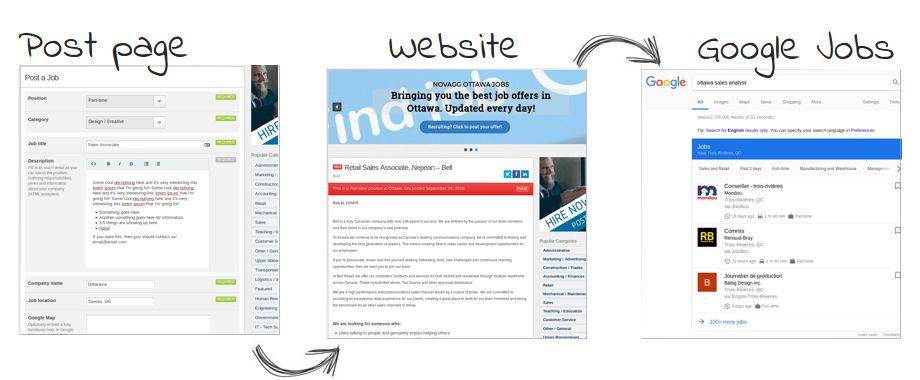 8 reasons why you should publish your job offer at Zymmetrical today
1.
Native Integration With Google Jobs
We bring you the best candidates – up to 6.5x more visibility
5.
Simple & Easy To Use Platform
Just login, create the job offer and it's done – no training needed
2.
Unlimited Job Postings
You can post as many job postings as you want
6.
No Long Term Commitment
You can cancel your plan at any moment – no strings attached
3.
Unmatched Visibility In Montreal
Our goal is to bring you the best 1% candidates in the region
7.
Instant Access
Bureaucracy at minimum – your access is immediately activated
4.
Featured Offers
Need to hire someone fast? Featured offers are the bomb!
8.
CVs Via Email / ATS
If you have an ATS you can simply paste your link – your choice
Convinced? Check out our plans
Best suited for a one-time use
Unlimited job offers
Monthly access


$
39
.90 + tx
40% DISCOUNT
Unlimited job offers
Manage & edit job offers
Best for recruiting all year
Best option for agencies
Subscription model
Cancel whenever you want
25% DISCOUNT
Unlimited job offers
Manage & edit job offers
Best for recruiting season
Did you know? Every time an employer buys an access on Zymmetrical.ca, the income is reverted to the Fondation Chef's d'Entreprises in Québec. The non-profit organization contributes to the development and promotion of local entrepreneurship. The activities are many, like informing over 136,000 readers with a monthly business journal; conduct corporate events featuring prestigious speakers, and much more! To read more about the organization, please visit their main website.